Paris Calling
Amélie Bigard
Jean Claracq
Clément Courgeon
Matthias Garcia
Nicolas Gaume
Cecilia Granara
Desiree Moheb Zandi
Madeleine Roger-Lacan
9 December 2022 - 28 February 2023
Siegfried Contemporary Private showroom, 16 Bassett Road, London W106JJ
Siegfried Contemporary and Sapling are pleased to present Paris Calling, a group exhibition celebrating the artistic energy coming from the city in the present moment. Unfolding across the two gallery spaces, the exhibition's first part opened on Friday 9th December at Siegfried Contemporary and will last till the end of January.
Sapling opened its doors for the second part on Tuesday 10th January 2023.
The two galleries have come together to curate a compelling selection of the talent emerging from Paris. The city continues to carry its history with pride. Its streets and cultural institutions are filled with reminders of its literary and artistic golden ages of the late eighteenth, nineteenth, and twentieth centuries.
A number of the artists in this show look to the future while being imbued in this sense of long cultural history, hailing from the École Nationale Supérieure des Beaux-Arts de Paris, one of the most significant art schools in France. They are joined by international artists having recently chosen to make Paris their home, attracted by the optimism that currently fuels the artistic scene in the city.
As Allen Ginsberg once said, "You can't escape the past in Paris, and yet what's so wonderful about it is that the past and present intermingle so intangibly that it doesn't seem to burden."
Foreign Affair
Egle Jauncems
Marcel Miracle
Anne Roger-Lacan
13 February - 15 March 2022, Saanen, Switzerland
Chalet Mazeau (annex to Chalet Farb, Farbstrasse 20, 3792 Saanen) and Chalet Mittelgässli Dorfstrasse 79, 3792 Saanen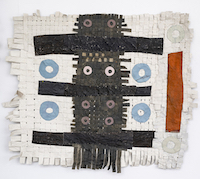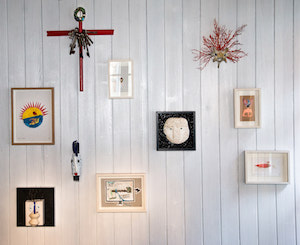 Siegfried Contemporary is pleased to announce "Foreign Affair" a three person exhibition presenting the works of artists Egle Jauncems, Anne Roger Lacan and Marcel Miracle.
The link that brings together the three artists in "Foreign Affair" is their use of the found object, partially used in the style of "objet trouvé" in the vein of Marcel Duchamp or partially appropriated and recomposed following a rich art historical tradition which dates in the western canon from the early 1900s with the Cubist's use of scavenged materials.
The three artists are brought together here with the title Foreign Affair (inspired by the seminal Mike Oldfield composition) to underline their very distinct backgrounds and histories that intersect here with their common exploration of the theme of time, space, memory and history.
Artist Marcel Miracle (born in 1957 in Moramanga, Madagascar, lives in Switzerland and Tunisia) taps into the tradition of the use of found materials with his objects trouvés and juxtapositions.. For more than thirty years, the artist has been creating small formats, a cosmogony from the heterogeneous objects he finds (broken shells, cuttlefish bones, twigs, rusty capsules, colored rubber, papers and other objects from his daily life or his Saharan travels), but also from the writing of short stories, poems, annotations, and titles to which he pays particular attention. He draws his references from African shamanism, from the works of Arthur Cravan, Perec, Borgès or Malcolm de Chazal. Marcel Miracle defines his work as an organization of chaos into cosmos, an alchemy of word and sign.
Egle Jauncems' (born, 1984, Vilnius, Lithuania, lives in London) visual analysis revolves around found imagery, textual fractions and overheard conversations. Working across painting, sculpture, and assemblage Jauncems works are surrogates for her research interests and roving eye.Her works in "Foreign Affair" are inspired by the Lithuanian cobbler and nighttime pattern designer Paulinas Kaulinas (1933-2017), whose book of over two hundred never-realised weaving patterns Loving thy mother through the patterns of cloth marked the starting point of her process. For this body of work Egle has revisited old canvases which have been reappropriated and transformed into the patterns and codes inspired by the drawings of Paulinas Kaluina.
ANNE Roger Lacan's (Born and living in France) practice has strong connections with Art Brut, the art movement initiated by Jean Dubuffet. She creates sculptures which have strong emotional ties to memory. Focused on questions relative to space and time, Roger Lacan's work is based and built on investigations and silences. Her work expounds a discourse on time tied to reflection, her compositions form a precious balancing act between matter and memory. A composition such as Wedding Hands is an example of the artist's exploration on the passing of time and, as in all her works, there is a subtle poetic investigation of the fleeting forgotten moments.
ABSTRACTION RELOAD
Alex Hubbard
Sergej Jensen
Gedi Sibony
9 October - 19 November 2021
Siegfried Contemporary Private showroom, 16 Bassett Road, London W106JJ
ABSTRACTION RELOAD
Alex Hubbard, Sergei Jensen, Gedi Sibony
Siegfried Contemporary is delighted to host Berlin's gallerie Neu in its London space for its first joint curatorial collaboration : Abstraction Reload.
Through this initiative we aim to encourage the evaluation of existing models, pooling resources and acting collaboratively to offer the opportunity of adding new voices to the London fall art program.
Alex Hubbard:
Alex Hubbard ((b.1975 Tolego, Oregon) is a Los Angeles based artist whose work encompasses video art and painting, exploring the boundaries of each via a cross-examination that invigorates both media in new and inventive ways. Hubbard's paintings often suggest a mechanical means of production. Fields of colour in fibreglass and resin are interrupted with richly pooled, dripped and poured paint. Working with fast drying materials, such as epoxy and latex, the artist is forced to act quickly, embracing chance happenings and revelling in the autonomy of the chosen media and through this deconstruction every traditional opposition to the formal language of painting is opened up.
Selected public collections:
Museum of Modern Art, New York; Solomon R. Guggenheim Museum, NY ; Hammer Museum, Los Angeles; Collection Jumex, MCDX; Walker Art Center, Minneapolis; Whitney Museum of American Art, NY; Art Institute of Chicago; Seattle Art Museum, Seattle; Museum of Contemporary Art, Miami
Sergej Jensen:
Sergej Jensen's work draws on a wide range of materials and formal references. Primarily known for his textile works, his lyrical compositions incorporate a variety of fabrics, from burlap and linen to silk and wool. Working within the idiom of minimalist painting, Jensen takes its material support – the canvas – and sews, bleaches, stretches or stains the cloth to create works that waver between abstraction and representation. The principle of the readymade and recycling also suffuse his practice; off-cuts from previous works often re-appear as motifs for new paintings; hand-knitted lengths are sewn or pulled over stretchers; sections of fabric are left outside to let the weather alter its surface. His practice draws attention to seemingly incidental details such as flecks of wool or frayed edges, and his muted palette and gestural mark-making, whether applied in paint or stained with bleach, point as much to negative space as to delineated forms.
Selected public collections:
Los Angeles County Museum of Art,L; Museum of Contemporary Art, LA; San Francisco Museum of Modern Art, SF; Moderna Museet, Stockholm;Hamburger Bahnhof, Berlin; National Gallery, Copenhagen.
Gedi Sibony
Gedi Sibony's work falls within the legacies of painting, assemblage, and sculpture. His wall pieces are never strictly two-dimensional, frequently leaning against walls or hanging precariously. Sibony's practice is inspired by Robert Rauschenberg's Combines and Richard Tuttle's sculptures; he accumulates everyday, cheap, and discarded objects, and materials that include packing materials, plastic sheeting, carpeting, wood, and cardboard boxes. His works are minimal and meticulous arrangements with a sensitivity for material texture and geometry.
Selected public collections:
Museum of Contemporary Art Chicago, Museum of Contemporary Art LA; MOMA, NY; San Francisco Museum of Modern Art, SF; Walker Art Center, Minneapolis; Whytney Museum, NY; Israel Museum , Jerusalem.