SPRING SALON
Caroline Achaintre
Gerasimos Floratos
Lucia Pizzani
Christine Roland
Tom Volkaert
26 4 14 07 2023
Siegfried Contemporary Private showroom, 16 Bassett Road, London W106JJ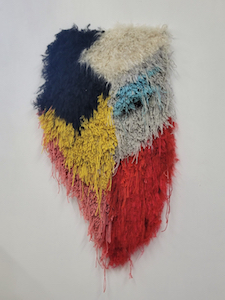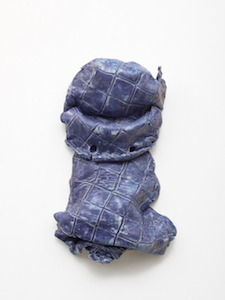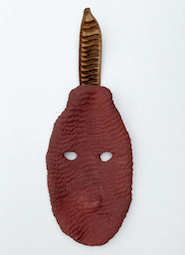 Our Spring Salon, opening on April 27th, explores the core theme of Siegfried Contemporary: the dialogue between my collection and my presentations, the cross-contamination and dialogue between different artists I love in my private and personal setting. In this context I have put together a "salon" presentation inspired by a beautiful Gerasimos Floratos work that I own: Dissolved legend in own mind now embracing stone, 2019
To me, this particular artwork evokes feelings of renewal, it has always nurtured a sense of awakening. I react strongly to Gerasimos' powerful use of material, and in response to this, I have paired the work with ceramics by Lucia Pizzani , Caroline Achaintre, Tom Volkaert and Christine Roland. Each sculpture on show is an example of the artists' exploration of the raw material they have chosen to use.
Lucia Pizzani has always incorporated ecological elements into her artwork, her physical environment often provides her with both the inspiration and physical materials for her work. One of the core concerns for Lucia is the process of metamorphosis and her work seems like the perfect link between Gerasimos' painting and the ceramics by the other three artists shown in the salon.
Caroline Achaintre's work draws from 'Primitivism', a style of early 20th century art that incorporated imagery from tribal cultures. Much of her ceramic work draws on traditions of carnival and tribal masks and throughout her practice, and different media use, we see in turn a mask, a garment, an animal…. At once abstract and figurative, her works reveal anthropomorphic forms and indicate a particular interest for animism. Her skin like surfaces speak of transformation, as do the works of the other artists she is paired with in this presentation.
I am delighted to add two works from my private collection to the presentation. The first is a sculpture by Tom Volkaert. Tom focuses on the changes which occur throughout the material process. He has an intuitive way of work, taking time to understand the fragility of each interval material, allowing then an element of independence, introducing the essential component of chance to the process. Relics of improvements and repairs are constant in Volkaert's designs, contributing to a vision of unsettling beauty and horror.
Finally I am pleased to add my own ceramic vase by Christine Roland, whom I have previously shown in Switzerland. For this sculpture Christine has worked with botanical designer Mary Lennox, who has installed a succulent into her stoneware vessel. A sense of ancient Nordic traditions can be felt in Roland's work, her dark stoneware pieces seem like they were just dug out of the earth. I believe this work completes the presentation by representing the cycle of renewal.
**********************************************************************************
Lucia Pizzani (Caracas 1975):
Born in Caracas and based in London, Pizzani's practice involves
the body and self, always informed by materiality. Having worked as part of the environmental movement in Venezuela for many years, these concerns are still very present in her research and production.
Last year her work was acquired by the TATE Collection and recent exhibitions, residencies and commissions include Magasin3 Museum of Contemporary Art (Stockholm), Planet B Climate Change and the new sublime, curated by Nicolas Bourriaud at Palazzo Bolanni (Venice), Peckham24 (London), TEA Museum (Tenerife), Casa Wabi and the Puerto Escondido Botanical Garden (Oaxaca, Mexico), LaunchPad Lab (Charente, France) and Hacienda La Trinidad Art Centre (Caracas). Upcoming exhibitions include Casino Luxembourg as part of the European Month of Photography EMOP and Contemporary Sculpture Fullmer (Buckinghamshire, UK).
Caroline Achaintre (Toulouse 1969):
In 2023 Caroline will have 2 museum shows: Doppelgänger, Museum Lothar Fischer, Neumarkt in der Oberpfalz/DE and Roadrunner, Neues Museum, Nürnberg/DE. Her work has been shown internationally in a large number of institutional exhibitions amongst them: Whitechapel, Tate and Camden Arts Center in the UK; Württembergischer Kunstverein Stuttgart/DE; Württembergischer Kunstverein Stuttgart/DE; MOCCA, Toronto/CA; Castello di Rivoli,IT. Her work is held in a number of public collections, amongst them: Tate, Arts Council Collection/UK, Centre Pompidou, Musee d'Art Moderne de la Ville, Paris/FR, Centre national des arts plastiques, Paris/FR
AURORA
Paola Petrobelli
Richard Woods
3-2-2023 5-3-2023
Siegfried Contemporary, Chalet Mittlegässli, Dorfstrasse 79 Saanen 3792, Switzerland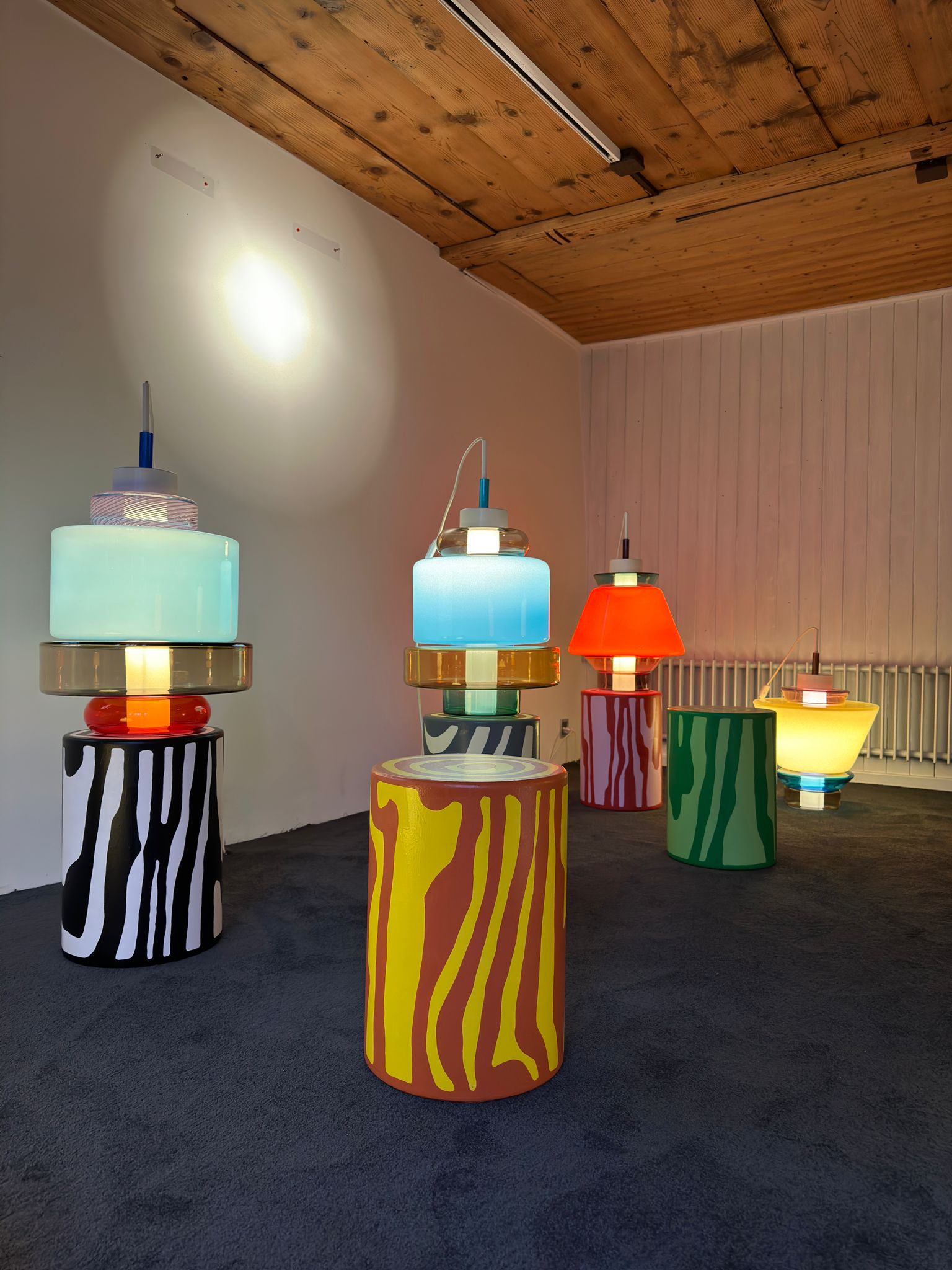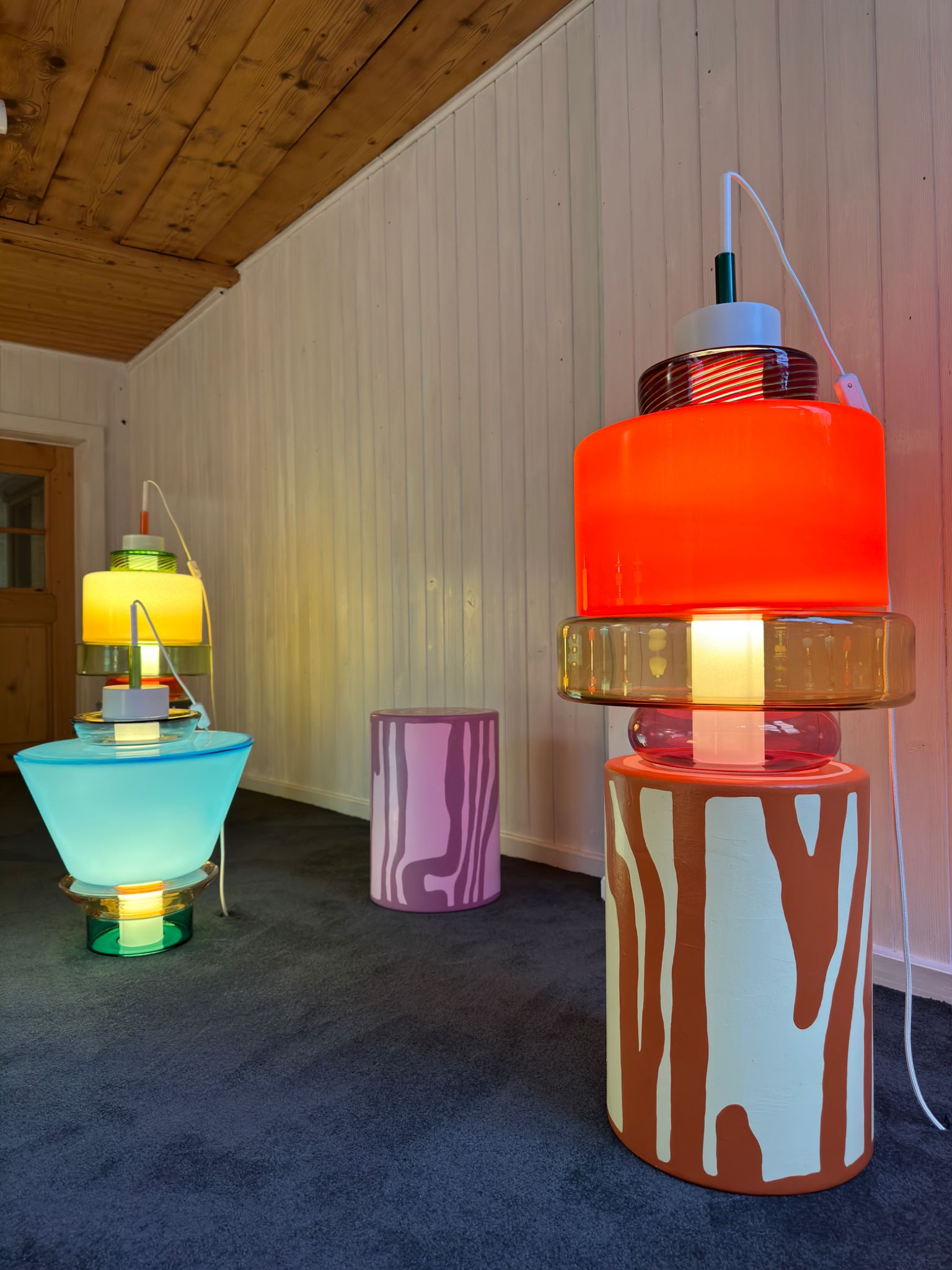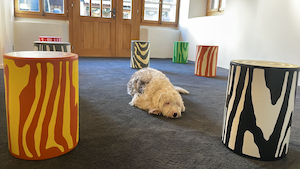 Siegfried Contemporary is excited to pair two designers, Paola Petrobelli and Richard Woods, in its new exhibition, AURORA, at Chalet Mittlegässli from February 3rd to March 5th.
Both artists have shown at Siegfried Contemporary in London last year, their work comes together in AURORA to create a vibrant and stirring environment that nods to past classic design with a contemporary twist.
Petrobelli has from the onset of her career worked exclusively with Murano Glass and its famed Venetian artisans. She is interested in the simplicity and functionality of glass, combining sensuous shapes and architectural line with sophisticated colour.
She has been commissioned by Wallpaper Magazine, Christian Dior and Peroni and collaborated with Gallery Libby Sellers, Perimeter Art and Design and Nilufar. Her work has been shown at the Triennale Design Museum, Salone Del Mobile Milano, The London Design Festival, and at fairs including Design Miami/Basel and the Pavillion of Art.
In Aurora, Petrobelli will be showcasing glass lamps from her "24" series, as well as introducing a new design, "24.2", created especially for this exhibition.
Petrobelli's sophisticated modular construction system follows a disciplined architectural agenda, moulded geometric forms are rigorously conceived to stack one above each other, each layer can be reordered and swapped to create innumerable different forms and colourways.
Similarly Wood's signature woodblock prints characterise his architectural installations; he has likened his bright palette to the plastic-like colours of his parents' garish 1970s decor. Often executed on his studio floor, he creates graphic textures such as bricks, stones and wood grain. Despite being known for architectural installations, Woods views his work "in terms of surfaces" rather than sculpting. In AURORA, Woods will be showing a set of "tree stumps" that he has purposely designed for this exhibition.
Richard Woods graduated from the Slade School of Fine Art, London in 1990, where he trained as a sculptor. Woods is well known for his architectural installations and re-surfacing of structures that propose an absurd twist on the cult of home improvement and DIY aesthetics. His works are characterised by cartoon-like decorative surfaces, bold patterns and vibrant colours.
His works are held in major collections including the Saatchi Collection, London; Arts Council England, London; Victoria and Albert Museum; London; British Museum, London and the Museum of Modern Art, New York.
Paris Calling
Amélie Bigard
Jean Claracq
Clément Courgeon
Matthias Garcia
Nicolas Gaume
Cecilia Granara
Desiree Moheb Zandi
Madeleine Roger-Lacan
12-09 28-2
Siegfried Contemporary Private showroom, 16 Bassett Road, London W106JJ
Siegfried Contemporary and Sapling are pleased to present Paris Calling, a group exhibition celebrating the artistic energy coming from the city in the present moment. Unfolding across the two gallery spaces, the exhibition's first part opened on Friday 9th December at Siegfried Contemporary and will last till the end of January.
Sapling opened its doors for the second part on Tuesday 10th January 2023.
The two galleries have come together to curate a compelling selection of the talent emerging from Paris. The city continues to carry its history with pride. Its streets and cultural institutions are filled with reminders of its literary and artistic golden ages of the late eighteenth, nineteenth, and twentieth centuries.
A number of the artists in this show look to the future while being imbued in this sense of long cultural history, hailing from the École Nationale Supérieure des Beaux-Arts de Paris, one of the most significant art schools in France. They are joined by international artists having recently chosen to make Paris their home, attracted by the optimism that currently fuels the artistic scene in the city.
As Allen Ginsberg once said, "You can't escape the past in Paris, and yet what's so wonderful about it is that the past and present intermingle so intangibly that it doesn't seem to burden."
Foreign Affair
Egle Jauncems
Marcel Miracle
Anne Roger-Lacan
13 February- 15 March 2022 - Saanen Switzerland
Chalet Mazeau (annex to Chalet Farb, Farbstrasse 20, 3792 Saanen) and Chalet Mittelgässli Dorfstrasse 79, 3792 Saanen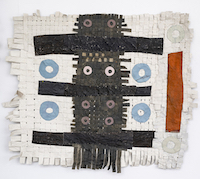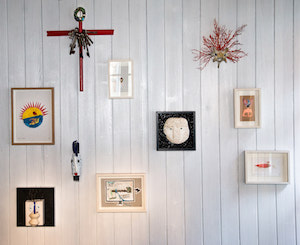 Siegfried Contemporary is pleased to announce "Foreign Affair" a three person exhibition presenting the works of artists Egle Jauncems, Anne Roger Lacan and Marcel Miracle.
The link that brings together the three artists in "Foreign Affair" is their use of the found object, partially used in the style of "objet trouvé" in the vein of Marcel Duchamp or partially appropriated and recomposed following a rich art historical tradition which dates in the western canon from the early 1900s with the Cubist's use of scavenged materials.
The three artists are brought together here with the title Foreign Affair (inspired by the seminal Mike Oldfield composition) to underline their very distinct backgrounds and histories that intersect here with their common exploration of the theme of time, space, memory and history.
Artist Marcel Miracle (born in 1957 in Moramanga, Madagascar, lives in Switzerland and Tunisia) taps into the tradition of the use of found materials with his objects trouvés and juxtapositions.. For more than thirty years, the artist has been creating small formats, a cosmogony from the heterogeneous objects he finds (broken shells, cuttlefish bones, twigs, rusty capsules, colored rubber, papers and other objects from his daily life or his Saharan travels), but also from the writing of short stories, poems, annotations, and titles to which he pays particular attention. He draws his references from African shamanism, from the works of Arthur Cravan, Perec, Borgès or Malcolm de Chazal. Marcel Miracle defines his work as an organization of chaos into cosmos, an alchemy of word and sign.
Egle Jauncems' (born, 1984, Vilnius, Lithuania, lives in London) visual analysis revolves around found imagery, textual fractions and overheard conversations. Working across painting, sculpture, and assemblage Jauncems works are surrogates for her research interests and roving eye.Her works in "Foreign Affair" are inspired by the Lithuanian cobbler and nighttime pattern designer Paulinas Kaulinas (1933-2017), whose book of over two hundred never-realised weaving patterns Loving thy mother through the patterns of cloth marked the starting point of her process. For this body of work Egle has revisited old canvases which have been reappropriated and transformed into the patterns and codes inspired by the drawings of Paulinas Kaluina.
ANNE Roger Lacan's (Born and living in France) practice has strong connections with Art Brut, the art movement initiated by Jean Dubuffet. She creates sculptures which have strong emotional ties to memory. Focused on questions relative to space and time, Roger Lacan's work is based and built on investigations and silences. Her work expounds a discourse on time tied to reflection, her compositions form a precious balancing act between matter and memory. A composition such as Wedding Hands is an example of the artist's exploration on the passing of time and, as in all her works, there is a subtle poetic investigation of the fleeting forgotten moments.
ABSTRACTION RELOAD
Alex Hubbard
Sergej Jensen
Gedi Sibony
9 October - 19 November 2021
Siegfried Contemporary Private showroom, 16 Bassett Road, London W106JJ
ABSTRACTION RELOAD
Alex Hubbard, Sergei Jensen, Gedi Sibony
Siegfried Contemporary is delighted to host Berlin's gallerie Neu in its London space for its first joint curatorial collaboration : Abstraction Reload.
Through this initiative we aim to encourage the evaluation of existing models, pooling resources and acting collaboratively to offer the opportunity of adding new voices to the London fall art program.
Alex Hubbard:
Alex Hubbard ((b.1975 Tolego, Oregon) is a Los Angeles based artist whose work encompasses video art and painting, exploring the boundaries of each via a cross-examination that invigorates both media in new and inventive ways. Hubbard's paintings often suggest a mechanical means of production. Fields of colour in fibreglass and resin are interrupted with richly pooled, dripped and poured paint. Working with fast drying materials, such as epoxy and latex, the artist is forced to act quickly, embracing chance happenings and revelling in the autonomy of the chosen media and through this deconstruction every traditional opposition to the formal language of painting is opened up.
Selected public collections:
Museum of Modern Art, New York; Solomon R. Guggenheim Museum, NY ; Hammer Museum, Los Angeles; Collection Jumex, MCDX; Walker Art Center, Minneapolis; Whitney Museum of American Art, NY; Art Institute of Chicago; Seattle Art Museum, Seattle; Museum of Contemporary Art, Miami
Sergej Jensen:
Sergej Jensen's work draws on a wide range of materials and formal references. Primarily known for his textile works, his lyrical compositions incorporate a variety of fabrics, from burlap and linen to silk and wool. Working within the idiom of minimalist painting, Jensen takes its material support – the canvas – and sews, bleaches, stretches or stains the cloth to create works that waver between abstraction and representation. The principle of the readymade and recycling also suffuse his practice; off-cuts from previous works often re-appear as motifs for new paintings; hand-knitted lengths are sewn or pulled over stretchers; sections of fabric are left outside to let the weather alter its surface. His practice draws attention to seemingly incidental details such as flecks of wool or frayed edges, and his muted palette and gestural mark-making, whether applied in paint or stained with bleach, point as much to negative space as to delineated forms.
Selected public collections:
Los Angeles County Museum of Art,L; Museum of Contemporary Art, LA; San Francisco Museum of Modern Art, SF; Moderna Museet, Stockholm;Hamburger Bahnhof, Berlin; National Gallery, Copenhagen.
Gedi Sibony
Gedi Sibony's work falls within the legacies of painting, assemblage, and sculpture. His wall pieces are never strictly two-dimensional, frequently leaning against walls or hanging precariously. Sibony's practice is inspired by Robert Rauschenberg's Combines and Richard Tuttle's sculptures; he accumulates everyday, cheap, and discarded objects, and materials that include packing materials, plastic sheeting, carpeting, wood, and cardboard boxes. His works are minimal and meticulous arrangements with a sensitivity for material texture and geometry.
Selected public collections:
Museum of Contemporary Art Chicago, Museum of Contemporary Art LA; MOMA, NY; San Francisco Museum of Modern Art, SF; Walker Art Center, Minneapolis; Whytney Museum, NY; Israel Museum , Jerusalem.
FUNKA
Brice Guilbert
Takuro Kuwata
May 17 - July 9 2021
Siegfried Contemporary Private showroom, 16 Bassett Road, London W106JJ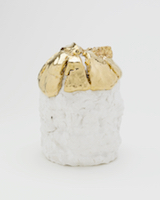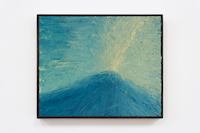 Siegfried Contemporary is delighted to open it's first post lockdown London exhibition "FUNKA" with works by Takuro Kuwata and Brice Guilbert.
The title FUNKA is the Japanese word for "eruption" and it symbolizes here the outburst of a new consciousness stemming from our collective experience of the past year, with a hint to the subject matter and processes employed by Guilbert and Kuwata.
The pairing of these two artists, with their energetic and vibrant vocabulary, represents our statement of positivity, of new beginnings and a symbol for a stronger network of connections between us and nature.
In other words: we hope that this burst of colour and shapes will bring you joy and might be one happy step towards embracing our changed world.
In his volcano paintings Brice Guilbert references his Creole roots and upbringing in Reunion Island, off the southern coast of Africa.
The volcano motif repeated in these works is sculpted by use of a unique process involving heated wax and oil paints. The rigorously crafted surfaces imbue a certain sense of sensuality and laboured intensity. Akin to viewing a box of jewels, the luminous and densely multi-layered surfaces encourage enjoyment from multiple points of observation, changing greatly depending on the position of the viewer. The subtle details and color shifts only expand in richness and fullness when the nuanced compositions are studied more at length and at alternate depths.
Takuro Kuwata expands the possibilities and pushes the boundaries of ceramic art by taking on traditional Japanese ceramic techniques such as 'kairagi' and 'ishihaze,'. Kuwata's studio is situated at the heart of Japanese ceramic artistry in the Mino region of Gifu Prefecture, which retains techniques dating back to feudal Japan. Inheriting the traditional tea-ceremony aesthetic of 'wabi-sabi,' his creations celebrate imperfect beauty and natural forms while being firmly rooted within a contemporary discourse. Through dialogue with the environment, history, nature, and time, Kuwata fuses together tradition and modernity, bringing into existence provocative works of art.
******************************************************
Brice Guilbert (b. 1979, France) has shown in multiple exhibitions throughout Europe. Guilbert has mounted solo shows in Brussels, Berlin, and Grenoble and has shown in group shows in New York, Bucharest, Ghent, and beyond. In addition to his painting practice, Guilbert co-founded Island in Brussels, and has published two books. His Creole songs and performances are highly regarded for their poetic and harmonious nature.
Takuro Kuwata was born in Hiroshima Prefecture, Japan in 1981, and is currently based in Gifu, Japan. Following his graduation from Kyoto Saga University of Arts in 2001, in 2002 he began studying under ceramic artist Susumu Zaima. In 2007, he graduated from the Tajimi City Pottery Design and Technical Center. His works have been exhibited globally in cities such as Brussels, London, and New York, and he was a finalist for the LOEWE Craft Prize 2018. Kuwata's works have been acquired by various international public collections including the Metropolitan Museum of Art NY, Rakusutei Museum of Art,Toyama Japan, the Rubell Family Collection, the Palm Springs Museum, the Boca Raton Museum of Art, the 21st Century Museum of Contemporary Art, Kanazawa, and the University of Michigan Museum of Art.