ABSTRACTION RELOAD
Alex Hubbard
Sergej Jensen
Gedi Sibony
9 October - 19 November 2021
Siegfried Contemporary Private showroom, 16 Bassett Road, London W106JJ
ABSTRACTION RELOAD
Alex Hubbard, Sergei Jensen, Gedi Sibony
Siegfried Contemporary is delighted to host Berlin's gallerie Neu in its London space for its first joint curatorial collaboration : Abstraction Reload.
Through this initiative we aim to encourage the evaluation of existing models, pooling resources and acting collaboratively to offer the opportunity of adding new voices to the London fall art program.
Alex Hubbard:
Alex Hubbard ((b.1975 Tolego, Oregon) is a Los Angeles based artist whose work encompasses video art and painting, exploring the boundaries of each via a cross-examination that invigorates both media in new and inventive ways. Hubbard's paintings often suggest a mechanical means of production. Fields of colour in fibreglass and resin are interrupted with richly pooled, dripped and poured paint. Working with fast drying materials, such as epoxy and latex, the artist is forced to act quickly, embracing chance happenings and revelling in the autonomy of the chosen media and through this deconstruction every traditional opposition to the formal language of painting is opened up.
Selected public collections:
Museum of Modern Art, New York; Solomon R. Guggenheim Museum, NY ; Hammer Museum, Los Angeles; Collection Jumex, MCDX; Walker Art Center, Minneapolis; Whitney Museum of American Art, NY; Art Institute of Chicago; Seattle Art Museum, Seattle; Museum of Contemporary Art, Miami
Sergej Jensen:
Sergej Jensen's work draws on a wide range of materials and formal references. Primarily known for his textile works, his lyrical compositions incorporate a variety of fabrics, from burlap and linen to silk and wool. Working within the idiom of minimalist painting, Jensen takes its material support – the canvas – and sews, bleaches, stretches or stains the cloth to create works that waver between abstraction and representation. The principle of the readymade and recycling also suffuse his practice; off-cuts from previous works often re-appear as motifs for new paintings; hand-knitted lengths are sewn or pulled over stretchers; sections of fabric are left outside to let the weather alter its surface. His practice draws attention to seemingly incidental details such as flecks of wool or frayed edges, and his muted palette and gestural mark-making, whether applied in paint or stained with bleach, point as much to negative space as to delineated forms.
Selected public collections:
Los Angeles County Museum of Art,L; Museum of Contemporary Art, LA; San Francisco Museum of Modern Art, SF; Moderna Museet, Stockholm;Hamburger Bahnhof, Berlin; National Gallery, Copenhagen.
Gedi Sibony
Gedi Sibony's work falls within the legacies of painting, assemblage, and sculpture. His wall pieces are never strictly two-dimensional, frequently leaning against walls or hanging precariously. Sibony's practice is inspired by Robert Rauschenberg's Combines and Richard Tuttle's sculptures; he accumulates everyday, cheap, and discarded objects, and materials that include packing materials, plastic sheeting, carpeting, wood, and cardboard boxes. His works are minimal and meticulous arrangements with a sensitivity for material texture and geometry.
Selected public collections:
Museum of Contemporary Art Chicago, Museum of Contemporary Art LA; MOMA, NY; San Francisco Museum of Modern Art, SF; Walker Art Center, Minneapolis; Whytney Museum, NY; Israel Museum , Jerusalem.
FUNKA
Brice Guilbert
Takuro Kuwata
May 17 - July 9 2021
Siegfried Contemporary Private showroom, 16 Bassett Road, London W106JJ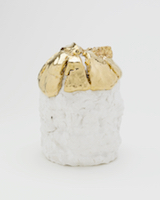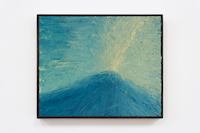 Siegfried Contemporary is delighted to open it's first post lockdown London exhibition "FUNKA" with works by Takuro Kuwata and Brice Guilbert.
The title FUNKA is the Japanese word for "eruption" and it symbolizes here the outburst of a new consciousness stemming from our collective experience of the past year, with a hint to the subject matter and processes employed by Guilbert and Kuwata.
The pairing of these two artists, with their energetic and vibrant vocabulary, represents our statement of positivity, of new beginnings and a symbol for a stronger network of connections between us and nature.
In other words: we hope that this burst of colour and shapes will bring you joy and might be one happy step towards embracing our changed world.
In his volcano paintings Brice Guilbert references his Creole roots and upbringing in Reunion Island, off the southern coast of Africa.
The volcano motif repeated in these works is sculpted by use of a unique process involving heated wax and oil paints. The rigorously crafted surfaces imbue a certain sense of sensuality and laboured intensity. Akin to viewing a box of jewels, the luminous and densely multi-layered surfaces encourage enjoyment from multiple points of observation, changing greatly depending on the position of the viewer. The subtle details and color shifts only expand in richness and fullness when the nuanced compositions are studied more at length and at alternate depths.
Takuro Kuwata expands the possibilities and pushes the boundaries of ceramic art by taking on traditional Japanese ceramic techniques such as 'kairagi' and 'ishihaze,'. Kuwata's studio is situated at the heart of Japanese ceramic artistry in the Mino region of Gifu Prefecture, which retains techniques dating back to feudal Japan. Inheriting the traditional tea-ceremony aesthetic of 'wabi-sabi,' his creations celebrate imperfect beauty and natural forms while being firmly rooted within a contemporary discourse. Through dialogue with the environment, history, nature, and time, Kuwata fuses together tradition and modernity, bringing into existence provocative works of art.
******************************************************
Brice Guilbert (b. 1979, France) has shown in multiple exhibitions throughout Europe. Guilbert has mounted solo shows in Brussels, Berlin, and Grenoble and has shown in group shows in New York, Bucharest, Ghent, and beyond. In addition to his painting practice, Guilbert co-founded Island in Brussels, and has published two books. His Creole songs and performances are highly regarded for their poetic and harmonious nature.
Takuro Kuwata was born in Hiroshima Prefecture, Japan in 1981, and is currently based in Gifu, Japan. Following his graduation from Kyoto Saga University of Arts in 2001, in 2002 he began studying under ceramic artist Susumu Zaima. In 2007, he graduated from the Tajimi City Pottery Design and Technical Center. His works have been exhibited globally in cities such as Brussels, London, and New York, and he was a finalist for the LOEWE Craft Prize 2018. Kuwata's works have been acquired by various international public collections including the Metropolitan Museum of Art NY, Rakusutei Museum of Art,Toyama Japan, the Rubell Family Collection, the Palm Springs Museum, the Boca Raton Museum of Art, the 21st Century Museum of Contemporary Art, Kanazawa, and the University of Michigan Museum of Art.