Dog Smile
Ketuta Alexi-Meskhishvili
14 January 2021 - 6 March 2021
Chalet Mittetgässli, Dorfstrasse 79, 3792 Saanen, CH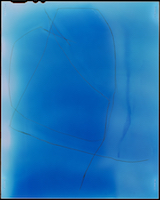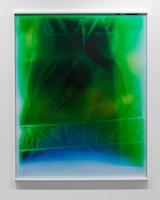 Siegfried Contemporary is proud to present the work of Berlin based Georgian American artist Ketuta Alexi-Meskhishvili for the first time in Switzerland.
Ketuta Alexi-Meskhishvili's photographs combine digital, analog, snapshot and staged photographic techniques. Through these combinations she builds a visual language wherein technical decisions become symbolic, describing cultural conditions of photographic production, representation and circulation.
By layering, redacting and staging the content and form of her images, Alexi-Meskhishvili creates carefully orchestrated images that read more as scenes, full of meaning and time, than as moments. Mysterious and cryptic, Alexi-Meskhishvili's scenes are abstract. By working heavily with ambiance mood, she leaves us with a strong feeling, almost a nostalgia for a memory, an event or a history.
In this new group of works Alexi-Meskhishvili examines the space of translation, what lies between an image and its referent, one language and another, and how a photograph can transmit the immersive instability of what lies outside of reason. Challenging traditional notions of photography as impersonal, or documentarian, this new group of works look at the capacity for an image to refer to the immaterial, the personal, and the direct.
By divorcing the image from its source and letting the space between them widen, Alexi-Meskhishvili encourages the photos to exceed tame expectations, to enter a wilder terrain. Like the Cheshire Cat, the Wonderland guide whose smile floats hauntingly as his body disappears, the smile in Dog Smile is our guide into an illogical photography. This remaining representational vestige leads us into a space detached from reason, walks us into the moments in translation in which excesses make themselves known and reveal a landscape rich in immersive chaos and dynamic possibility.
ketuta Alexi-Meskhishvili (b. 1979 Tsiblisi, Georgia) lives and works in Berlin. Alexi-Meskhishvili received her BFA in Photography from Bard College, Annandale, NY in 2003. Her work has been included in exhibitions at Musee d'Art Moderne de la ville de Paris, France (2019); Kunst Haus Wien, Austria (2018); Kusntverein Hanover, Germany (2015); New Museum Triennial, NY, USA (2015).
Alexi-Meskhishvili's work is shortlisted for the Louis Roederer discovery award at The Rencontres d'Arles 2021.